Angel Santarossa and Holger Götz won the CBI Poster Award 2023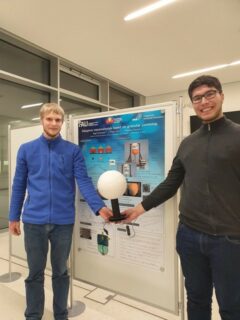 Angel Santarossa and Holger Götz won the CBI Poster Award 2023.
The award was given in the annual Symposium of the Department of Chemical and Bioengineering. They received the prize for their poster:"Adaptive metamaterials based on granular jamming".
Im Rahmen der Poster Session auf dem CBI-Symposiums präsentierten 50 Nachwuchswissenschaftlerinnen und Nachwuchswissenschaftler ihre Forschungsergebnisse. Der Poster Award ging an Angel Santarossa und Holger Götz vom Lehrstuhl für Multiscale Simulation of Particulate Systems (MSS). Für ihr Poster "Adaptive metamaterials based on granular jamming" erhielten sie eine "Mondlampe" aus dem 3D-Drucker des Lehrstuhls MSS.
Das mit dem Award ausgezeichnete Poster stellte die Forschung zu adaptiven Metamaterialien vor, die in granularen Robotergreifsystemen Verwendung finden. Granulare Robotergreifsysteme haben das Potenzial, moderne Fertigungsprozesse zu revolutionieren, da sie sich an die unterschiedlichen Formen von Objekten anpassen können. Ein granularer Greifer besteht aus einer luftundurchlässigen, mit Granulat gefüllten Membran. In seinem Ausgangszustand ist er weich und deformierbar, und kann sich so an die Form des Greifobjektes anpassen. Wird in der Membran ein Unterdruck erzeugt, verhärten die Partikel des Granulats und der Greifer "greift" das Objekt. Die Forschungsziele der beiden Nachwuchswissenschaftler bestehen darin, das Funktionsprinzip granularer Greifer zu verstehen und zu verbessern. Zu diesem Zweck kombinieren sie physikalische Experimente, Röntgentomographie und Simulationen. Diese Kombination ermöglicht einen Einblick in das Innere der Greifsysteme und damit die Analyse der Partikelinteraktionen. So konnten die Forscher beispielsweise zeigen und erklären, dass Granulate mit weichen Partikeln deutlich höhere Haltekräfte erreichen als solche mit harten Partikeln.
Das Department CBI beglückwünscht die Preisträger!